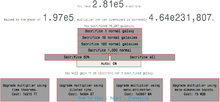 Electrons are an important feature in NG+++. You unlock electrons by purchasing the first new dilation study under mastery studies that costs 2e82 time theorems. Electrons provide a boost to your multiplier per 10 dimensions bought, but in order to use them, you have to sacrifice your regular galaxies. The number of electrons you get is equal to the number of galaxies you sacrificed times the number of electrons per galaxy you currently have. This number starts at 2 electrons per galaxy, and can be upgraded using either time theorems, dilated time, meta-antimatter, or meta-dimension boosts. Each upgrade increases the electrons per galaxy by 0.25. The electrons per galaxy also increases by 0.25 for each quantum challenge completed, and 0.5 per paired challenge.
Table of electron upgrades
Below is a table showing the costs of electron upgrades.
| Resource | Upgrade 1 | Upgrade 2 | Upgrade 3 | Upgrade 4 | Upgrade 5 |
| --- | --- | --- | --- | --- | --- |
| Time Theorems | 1e83 | 1e84 | 1e85 | 1e89 | 1e95 |
| Dilated Time | 1e154 | 1e157 | 1e162 | 1e202 | 1e322 |
| Meta-Antimatter | 1e639 | 1e642 | 1e647 | 1e687 | 1e807 |
| Meta-Dimension Boosts | 27 | 30 | 35 | 75 | 195 |
| Resource | Upgrade 6 | Upgrade 7 | Upgrade 8 | Upgrade 9 | Upgrade 10 |
| Time Theorems | 1e103 | 1e113 | 1e125 | 1e139 | 1e155 |
| Dilated Time | 1e594 | 1e1114 | 1e2002 | 1e3402 | 1e5482 |
| Meta-Antimatter | 1e1059 | 1e1599 | 1e2487 | 1e3887 | 1e5967 |
| Meta-Dimension Boosts | 467 | 987 | 1875 | 3275 | 5355 |